Suze Orman Biography, Quotes and Background
April 28, 2011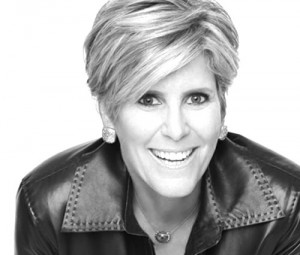 A world-renowned financial advisor, this Suze Orman Biography details how Suze made her mark in the investment world.  Suze was born on June 5th 1951, in Chicago. Suze Orman also pursues the career of a motivational speaker and is a very famous television host. She is a certified financial planner and her books on finance have gone on to become New York Times Bestsellers. She is presently a resident of U.S.A.
Her speeches on finance, investment and banking, both on and off television have always attracted a large audience. The financial strategies that Suze came up with were found simple and easy to follow and they always yielded profitable returns to the investors. Her own investment success finds place in her speeches and stories and people are easily able to connect to her and find her speeches interesting and beneficial.
Backround
Suze had a rather difficult childhood and youth. She suffered from Dyslexia and hence found it difficult to form words and frame sentences. In spite of this very tedious challenge, with sheer will power and determination Suze went on to complete his High School Studies and also got accepted at the local Illinois University. Suze didn't have a good financial stability and to pay off her tuition fees she took a part time job at the University campus cafeteria. In the University she studied social work. However that couldn't be completed due to some problem regarding the completion of study of a foreign language. She completed the criteria by moving to California and studying Spanish. This helped her earn a Diploma from her University.
In California Suze used to work in a bakery as her part time job, to support her education. While working at the Bakery itself, Suze had plans to open her very own restaurant and start business. But to fulfill that dream she required lots of fund. The requirement of fund was however complete when a fellow customer loaned her $50000.
Suze invested the money at a firm called Merrill Lynch. The investments were made based on the recommendations of Merrill Lynch stock broker. However this venture turned out to be a failure and Suze lost every bit of her money. Now she was under a huge debt.
Now she joined Merrill Lynch as a trainee to become an account executive. She eventually found out that her stock broker had engaged in an illegal act which made her loose all her money previously. She sued Merrill Lynch. A legal settlement was done and Orman got back all her money to pay off her debts. With the completion of her training she was hired by the same firm and had a successful career there. Her study of finances, which she took alongside her job, helped her even more. Next she worked at a company called the Prudential Bache Securities. Here she took up the post of a Vice President of the Finance Department. Her career took the next big leap in 1987 when she went on to open her very own investment firm and christened it as the Suze Orman Financial Group. She was designated to the post of the director in her own company. She successfully ran the company until 1997.
Suze Orman Accomplishments
After 1997 Orman decide to devote her full time to her books on finance. The Six books that she penned down were all declared to be the New York Times Bestsellers. Her first book came out in 1997 and was named You've Earned It, Don't Loose It: Mistakes You can't afford to Make When You Retire (with Lynda Mead). It instantly went on to top the charts; and the rest as they say was history. One by one her books came out and all caught up the market like fire. Her other books include The Courage to be Rich, the Road to Wealth, The Laws Of Money, the Lessons Of Life…, The Money Book for the Young, Fabulous and Broke, Women and Money: Owing the Power to Control Your Own Destiny and Suze Orman's 2009 Action Plan.
Owing to the success of her books her television career was just a matter of time. She hosted television shows that were based on her 6 books. Currently she hosts two shows on TV. One is called the Suze Orman's Show on CNBC where she advises finance and the other is called Suze Orman's Financial Freedom. The later airs on QVC. With the success of the television shows, Suze got many prestigious awards too. She went on to win the Gracie Award for a record 6 times. She also got two Daytime Emmys. She listed in the top most influential women of the world and amongst the 100 most influential people of the world.
Summary
Suze Orman is what redefines the word "women power'. She proves that the society could still be male dominated, but women are equally competent and qualified in whatever field they choose.