Peter Lynch Quotes and Biography From a Famous Smart Investor
March 25, 2011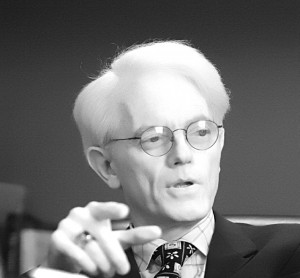 Famous Peter Lynch quotes such as "Investing without research is like playing stud poker and never looking at the cards." are based on using common sense which is what made him one of the greatest Wall Street Stock Investors of all times. The Investment Industry rose to his extraordinary skills when Fidelity's Magellan Fund witnessed an incredible increase from $20 Million to a mammoth $14 Billion with more than 1000 individual stock positions.
Background
Peter Lynch achieved this unbelievable success in just 13 years of his term as the Head of the Fund, from 1977 to 1990. It proved Peter Lynch's mettle in the field of investment. But it is growth of Lynch from a Golf Caddy to a Wall Street mastermind that has earned him much praise and admiration.
Peter Lynch was born on 19 January, 1944 in Newton. When Lynch was very young his father died and he had to take care of his mother. It was a difficult phase for him as he was not a privileged child unlike many others. He got admitted in local Public School. At a tender age, he took the small job of a Golf Caddy at Brae Burn, a golf club outside Boston. But the job proved to be a blessing in disguise for Peter as it helped him to meet people who had a good knowledge of stocks and investments. Peter was a good learner and he grasped it very quickly. He used to discuss the information with the businessmen who came to play Golf. Gradually, when he acquired a good knowledge, he started his research and finally invested in a company called the "Flying Tiger".
The young Peter Lynch tasted success with his first effort. But it was just the beginning of his remarkable journey. His caddying earned him a Frances Wimen Scholarship, a financial aid scholarship and Lynch got graduated in Finance from Boston College in 1965. He became an Intern with Fidelity in 1966. He further earned a Master's degree in Business Administration from Wharton School of the University of Pennsylvania in 1968. After a two year stint in the Army, Peter Lynch was permanently hired by Fidelity as the Research Analyst in 1969. At the age of just 25, he began earning $16,000 per annum.
In 1974, Lynch graduated to the position of the Research Director of the Fidelity. He held that position till 1977. This was the milestone year of his life. He was made the Head of the obscure Magellan Fund. The tremendous progress of the Fund (from $20Million to $14Billion) is a landmark for all investors. It is indeed an example of the hard work and great skills of Peter Lynch and he is reaping rich rewards by becoming a millionaire with his net worth of $352 million (as in 2006). In 1990, Peter Lynch retired as Magellan Fund's Manager to fulfill his wish to work for Philanthropic issues. He was appointed as the Vice-Chairman of Fidelity's investment Adviser – Fidelity Management & Research Co. in 2007. He is now the Research Consultant at Fidelity and his search for new challenges continues. No wonder he is looked as an icon in investment industry.
Investment Style
Peter Lynch is often referred to as "Chameleon" in the Investment Industry. He has been honored with this title because of his knack for adapting to different styles of investment according to the demand of the situation.
One of his most important Principles is "Invest in what you know" because an investor can falter if he does not have the complete knowledge. Majority of Peter Lynch's successful ideas had come while he was walking in the grocery stores or chatting with his friends.
Peter Lynch was a propounder of "Research". He said that observations are good but it should be followed by detailed research. The investor should seek a company which has strong earning growth and reasonable valuations (PEG Ratio). The company should have good percentage growth of sales, strong cash flow and careful management of Assets. He said that it helps the company to succeed in all types of market environment.
According to Lynch, an investor should "Invest for a Long Period". He was of the belief that the value of a company could only be predicted after 10 or 20 years. In fact, he used to collect the knowledge of his companies and as long as they were winners he did not sell them. He saw no use in predicting the nature of the stock market and he said that the investors should not sell their winners in a short span of time. He says – "It's sort of like watering the weeds and cutting out the flowers".
Lynch loves Baseball and he introduced a term called "Ten Bagger". The measure of success in Baseball is number of "Bags" or "bases" a runner reaches. In the style of Lynch – It is that type of investment which is ten times worth its original purchase price.
Peter Lynch divided the stocks into six categories: –
Fast growers – These are small aggressive companies who have the potential to grow around 20 to 25%. These are the favorite stocks of Peter Lynch.
Stalwarts – These are Blue Chip companies which have room to grow .E.g. Coca Cola and Procter and Gamble.
Slow Growers – These are companies which are past their prime. He avoids these stocks.
Cyclicals – These are companies which rise and fall with economy.
Turnarounds – These are fallen companies which turnaround and become successful.
Asset Plays – These are companies that own overlooked assets. It is very difficult to determine and the investors should use their own knowledge of the industries to determine this category.
Peter Lynch worked very diligently for 24×7. He liked to be continuously in contact with the executives and managers. He studied the environment very carefully and tried to understand the world as it is in the present and also what it would be in the future. This was the mark of a great man who created a paradigm for the rest of the investors.
Investing Essence
The essence of the investment philosophy of Peter Lynch can be understood in the following points:-
Know what you possess.
It's useless to predict the economy and interest rates.
You have plenty of time to identify and recognize great companies.
Avoid long shots.
It is very important to have good management – buy good businesses.
Be flexible and humble, and learn from mistakes.
Before you make a buy, you should be able to explain why you're buying.
There's always something to worry about
Peter Lynch: The Living Legend
Philanthropy for Peter Lynch was a form of investment. He said he wanted to give money to support the ideas he believed in and thought he could spread them. Lynch's wife, Carolyn, looks after the family foundation. She said they were both excited about a new Skateboard Park being planned along the Charles River, and was very happy to support a small park in Dudley Square. In 1976, Lynch started a New Year Eve Festival called the "First Night". "City Year" is a community welfare program which was started in Boston in 1988 and now operates in 14 locations.
The Lynch Foundation, which had $74 million in assets in 2003, supports education, religious organizations, cultural and historic organizations, hospitals and medical research. Lynch also contributed in the Fidelity Charitable Fund.
Peter Lynch has written three text books about investing – "One Up on Wall Street", "Beating the Street", and "Learn to Earn". These books are a great guiding force for the new investors who want to do well in the stock market. Lynch was also a column writer for "Worth" magazine. He wrote about his thoughts on investment and also discussed about the companies mentioned in his Books.
There is so much to learn from Peter Lynch. He has had such an incredible journey – from a mere Golf Caddy to a Millionaire and stock market genius. By following his style of investing, the investors can eliminate the risk factors and learn to come out of critical situations. Today Peter Lynch is a trademark of excellence and will power, an asset for the Investment industry and an inspiration for people all around the world.
Famous Quotes
"Go for a business that any idiot can run – because sooner or later, any idiot is probably going to run it."
"If you stay half-alert, you can pick the spectacular performers right from your place of business or out of the neighborhood shopping mall, and long before Wall Street discovers them."
"Investing without research is like playing stud poker and never looking at the cards."
"Absent a lot of surprises, stocks are relatively predictable over twenty years. As to whether they're going to be higher or lower in two to three years, you might as well flip a coin to decide."
"If you spend more than 13 minutes analyzing economic and market forecasts, you've wasted 10 minutes."
"Everyone has the brainpower to follow the stock market. If you made it through fifth-grade math, you can do it."