Over 20 billion net worth George Soros Super Investor
September 21, 2011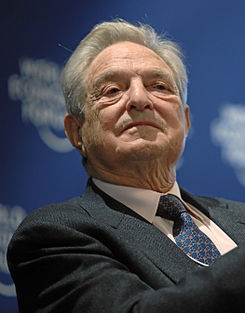 George Soros net worth is over 20 billion dollars.  He is a self-made billionaire investor and philanthropist with a long history of success.   He has also given $9B to charity since 1979.
Biography
George Soros was born in Budapest, Hungary on August 12, 1930. He was Jewish born through the time when Nazi Germany took military control over Hungary. With an original last name of Schwartz, the family changed their last name to Soros in 1936. Soros survived the Nazi invasion and the Battle of Budapest and he first traded currencies in 1945-1946, along with jewelry, during the period of Hungarian hyperinflation.
He then immigrated to England in 1947 where he attended the London School of Economics and eventually graduated in 1952. He then immigrated to New York City in 1956 and worked as an arbitrage trader with F.M. Mayer between 1956-1959. From there, he worked as an analyst with Wertheim and Company from 1959-1963. From 1963 to 1973 he worked for Arnhold and S. Bleichroeder. He attained the position of Vice-President only to realize that he was a much better investor than a philosopher or executive. He convinced his employer to establish an offshore investment fund for him to run and wishes came true in 1967, when the company founded First Eagle; then again, in 1969, when they founded a second fund, Double Eagle Hedge Fund. Regulations limited Soros' ability to invest the way that he wanted, so in 1973 he quit his job to start his own private investment company, later became known as Quantum Fund, which was actually founded in 1970 with Jim Rogers. He then retired in 1980.
Insider Trading?
In 2002, a French Court ruled that Soros performed "insider trading" from a 1989 deal where he bought a number of shares in a French Bank, one year after he was approached to join in on a takeover attempt on the same bank. He was fined $2.3 million, which was the exact amount that he had made throughout this business transaction. Soros maintains his innocence, as he states that the takeover was public knowledge.
Famous For:
1. Soros is known for being that man that single handedly broke the Bank of England in one day of trading where is profited a reported $2billion from one trade, where he risked $10 billion of his own money on shorting the British pound. Needless to say, he was right.
2. Running the Quantum Fund. While George Soros was at the helm, the Quantum fund generated an annual return of over 30%.
3. He was considered to be the "trigger" behind the Asian Financial Crisis of 1997, where he had a bet against the Thai baht.
Investment Style
George Soros invests typically in bonds and currencies and this area is where he has made his money. Soros' investment style tends to lean towards being a master at translating economic trends into highly leveraged trades. He could be considered a short term speculator. His investing style tends to be hard to copy as he stated he just gets a feeling of when "to get out in the front and make a killing." He believes that investors move in herds, and he would tend to follow suit, until the opportunity was right for the taking. He also believes that investors drive the fluctuations of the markets and that the markets are chaotic because of this.
Famous Quotes
1. "A full and fair discussion is essential to democracy."
2. "An open society is a society which allows its members the greatest possible degree of freedom in pursuing their interests compatible with the interests of others."
3. "Bush's war in Iraq has done untold damage to the United States. It has impaired our military power and undermined the morale of our armed forces. Our troops were trained to project overwhelming power. They were not trained for occupation duties."
4. "I chose America as my home because I value freedom and democracy, civil liberties and an open society."
5. "I give away something up to $500 million a year throughout the world promoting Open Society. My foundations support people in the country who care about an open society. It's their work that I'm supporting. So it's not me doing it."
6. "Markets are constantly in a state of uncertainty and flux and money is make by discounting the obvious and betting on the unexpected."
7. "The financial markets generally are unpredictable. So that one has to have different scenarios… The idea that you can actually predict what's going to happen contradicts my way of looking at the market."