Donald Trump Bio, Accomplishments, Quotes, Net Worth and Background
June 17, 2011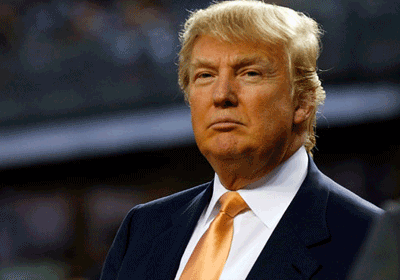 A world famous billionaire investor, this Donald Trump bio showcases his accomplishments and how he made most of his money through real estate investments. According to Forbes, Donald Trump's net worth was valued at $2.7 billion in March of 2011.
Background
Donald Trump was born on June 14th, 1946 in New York and had four brothers and sisters. Donald Trump is now a billionaire who constructed giant feats ranging from skyscrapers, to golf courses, and even to Casinos and hotels. He's been in job positions from investing stock, running companies, and even staring on a television show. Most of his money has come from building huge projects as a real estate tycoon. When he first started, he worked with his father for five years. He says, "My father was my mentor, and I learned a tremendous amount about every aspect of the construction industry from him." After he learned as much as he could from his father, he moved on to become a real estate investor. On most of the businesses he has, he has giant "T"s written as a trademark of sort, mainly to show it's his.
On a personal level, he's been married three times and has 5 children. He married his first wife, Ivana Trump, in 1977 then divorced in 1992. He and his second wife, Marla Maples, got married 1993 and divorced in 1999. He and Melania Trump got married in 2005 and are still together. He has three children with his first wife and one child with each of his other wives.
Investment Styles
His main style of investing is in land; he's a real estate tycoon. He bought land, and then he constructed giant properties such as golf courses and casinos on the land. Out of all the buildings Donald Trump made, Trump Tower was his biggest accomplishment. He always kept prices high even when others started to lower theirs. One of the very possible reasons he's so rich and famous is because he thinks big. A sum of his quote is, why think at all if you're not thinking big. If you think about Trump Tower, golf courses, and casinos, they all have one thing in common; they're all huge.
Accomplishments
His biggest accomplishment, Trump Tower, had luxurious hotels as well as shops and stores inside of it. He's also brought up casinos as well as resorts. His name is in the name of most of the casinos and hotels he's turned into metaphorical gold mines. Donald Trump also owned the Trump Taj Mahal hotel that opened in 1990; that was the largest hotel in the world.
The Apprentice, aired in 2004, was also a giant success by Donald Trump; it was a reality show that had a great amount of viewers. Donald Trump even has a star on the Hollywood Walk of Fame. He created the Trump University in 2005. It teaches mainly about real estate as well as being a successful entrepreneur. In addition to the all of the other things, he's also written few business books that teach how to be a successful business man. Because he has had many bankruptcies but stayed above water, people trust his ideas and always find him to be one of the best businessmen out there.
Failures
In Donald Trump's life, He's called for bankruptcy multiple times. In fact, his casino went into bankruptcy twice. He solved this problem by becoming a partial owner of the casino. By doing this, he could pay the debt back slower at lower rates. He didn't personally get involved when the going got tough, that way he wouldn't need to file bankruptcy. Donald Trump's casino resorts as well as hotels also went into bankruptcy a few years later. His idea was to give some more stocks to partial owners, so when the prices went up, they'd have more power in the company; in exchange in this deal, he wanted some of the debts of the casinos and hotels forgiven.
By the early 1990s, Donald Trump had owed billions of dollars, and most people thought that he was done for. Since he was able to keep a positive attitude and not accept defeat, he eventually got back to being one of the best businessmen around Also, by continuing to go on and by not giving up, he was put in the Guinness Book of World Records as having the biggest financial turnaround in history. He says his financial failures happened, because he has simply lost focus.
Famous Quotes
1. "I like thinking big. If you're going to be thinking anything, you might as well think big"
2. "If you're interested in 'balancing' work and pleasure, stop trying to balance them. Instead make your work more pleasurable"
3. "Sometimes by losing a battle you find a new way to win the war"
4. "Sometimes your best investments are the ones you don't make"